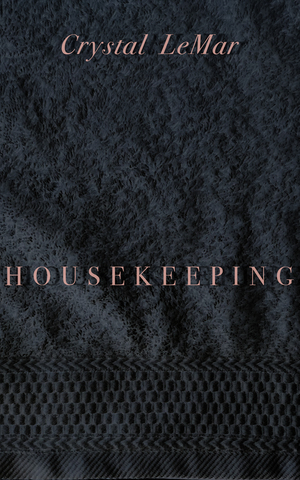 Giveaway
19 Nov 2022 - 18 Dec 2022
Prizes: Digital (250 copies) — Available in 177 countries
fiction
contemporary
crime
literary
mystery
romance
challenging
inspiring
mysterious
medium-paced
264 pages | first published 2022
Prizes: Digital (250 copies) — Available in 177 countries
fiction
contemporary
crime
literary
mystery
romance
challenging
inspiring
mysterious
medium-paced
264 pages | first published 2022
Enter the Giveaway today and share in a provocative journey that questions family values, expectation & ambition. Craig Lee is the author behind Crystal LeMar and the novel 'Housekeeping'.  
 
As a debut author, his work takes energy from the same inequalities that first confronted his formative years. Experiences that taught him the value of identifying shared feelings and seeing things differently, through other's eyes. Empathy. Understanding what moves people, has moved him to write. Airport terminals, planes, trains and hotel foyers are where he writes best. Public non-spaces between worlds. Globally scattered anonymous platforms to somewhere else that help him conceive and collide entire worlds. Neutral places to build a rapport with his characters, to understand their demons, charms and primal motives. A unique connection between character and author he believes builds a 'sincerity of autonomy' in each, and ultimately the story itself. 
Book description
Living life how you dreamt as a kid? Fulfilling your desires in love, life, and career, and on your own terms? Yes, then don't read this book, write one. Feeling a growing realisation and resignation that your life is merely enabling the dreams of...

Prizes
Format: Digital
Number of copies: 250
Delivery: Email with .epub file attachment
Afghanistan, Albania, Algeria, Angola, Anguilla, Antigua and Barbuda, Argentina, Armenia, Australia, Austria, Azerbaijan, Bahamas, Bahrain, Bangladesh, Barbados, Belarus, Belgium, Belize, Benin, Bermuda, Bhutan, Bolivia, Bosnia and Herzegovina, Botswana, Brazil, British Virgin Islands, Brunei, Bulgaria, Burkina Faso, Cambodia, Cameroon, Canada, Cape Verde, Cayman Islands, Chad, Chile, China Mainland, Colombia, Costa Rica, Cote D'Ivoire, Croatia, Cyprus, Czech Republic, Democratic Republic of the Congo, Denmark, Dominica, Dominican Republic, Ecuador, Egypt, El Salvador, Estonia, Eswatini, Fiji, Finland, France, Gabon, Gambia, Georgia, Germany, Ghana, Greece, Grenada, Guatemala, Guinea-Bissau, Guyana, Honduras, Hong Kong, Hungary, Iceland, India, Indonesia, Iran, Iraq, Ireland, Israel, Italy, Jamaica, Japan, Jordan, Kazakhstan, Kenya, Kosovo, Kuwait, Kyrgyzstan, Laos, Latvia, Lebanon, Liberia, Libya, Lithuania, Luxembourg, Macau, Madagascar, Malawi, Malaysia, Maldives, Mali, Malta, Mauritania, Mauritius, Mexico, Micronesia, Moldova, Mongolia, Montenegro, Montserrat, Morocco, Mozambique, Myanmar, Namibia, Nauru, Nepal, Netherlands, New Zealand, Nicaragua, Niger, Nigeria, North Macedonia, Norway, Oman, Pakistan, Palau, Panama, Papua New Guinea, Paraguay, Peru, Philippines, Poland, Portugal, Qatar, Republic of Korea, Republic of the Congo, Romania, Russia, Rwanda, Saudi Arabia, Senegal, Serbia, Seychelles, Sierra Leone, Singapore, Slovakia, Slovenia, Solomon Islands, South Africa, Spain, Sri Lanka, St. Kitts and Nevis, St. Lucia, St. Vincent and the Grenadines, Suriname, Sweden, Switzerland, São Tomé and Príncipe, Taiwan, Tajikistan, Tanzania, Thailand, Tonga, Trinidad and Tobago, Tunisia, Turkey, Turkmenistan, Turks and Caicos Islands, Uganda, Ukraine, United Arab Emirates, United Kingdom, United States, Uruguay, Uzbekistan, Vanuatu, Venezuela, Vietnam, Yemen, Zambia, Zimbabwe