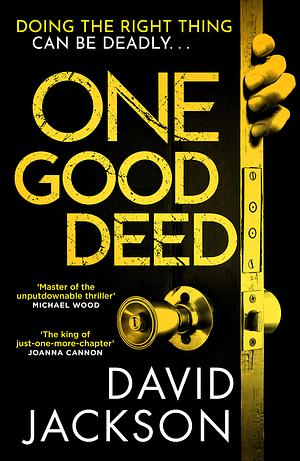 Giveaway
19 May 2023 - 18 Jun 2023
Prizes: Print (10 copies), Digital (50 copies) — Available in United Kingdom
fiction
crime
mystery
thriller
mysterious
tense
fast-paced
384 pages | first published 2023
Prizes: Print (10 copies), Digital (50 copies) — Available in United Kingdom
fiction
crime
mystery
thriller
mysterious
tense
fast-paced
384 pages | first published 2023
Viper is thrilled to be giving away 50 eBooks and 10 hard copies of David Jackson's gripping new pageturner One Good Deed!

When Elliott offers to help Rebecca chase off a man harassing her by pretending to be her boyfriend, he only thought it as just a favour for a stranger. Until the next day, when the man knocks on his door, claiming to be Rebecca's ex-boyfriend - when in truth, he is her stalker. When Elliott tries to tell him the truth, the man doesn't believe him, and Rebecca is nowhere to be found...

An immediately gripping 'what would you do' premise turns into a nightmare roller coaster ride. One Good Deed combines Jackson's signature dark humour with nailbiting suspense for a book that will keep you up all night perfect for fans of Adrian McKinty, Steve Cavanagh and Alex North.
Book description
'King of One More Chapter' JOANNA CANNON'Master of the unputdownable thriller' MICHAEL WOOD'A stunning read that grips you by the throat' JANICE HALLETTNO GOOD DEED GOES UNPUNISHEDElliott has never thought of himself as a hero. Until one dark nigh...

Prizes
Format: Print
Number of copies: 10
Delivery: Package via Serpent's Tail
Eligible countries: United Kingdom
---
Format: Digital
Number of copies: 50
Delivery: Google Books Code
Eligible countries: United Kingdom
---