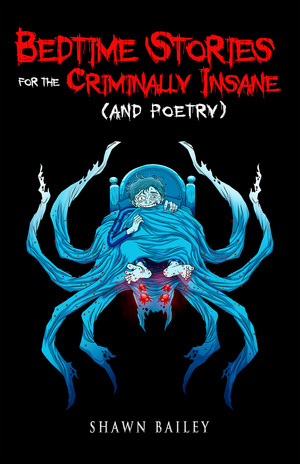 Giveaway
19 Sep 2022 - 18 Oct 2022
Prizes: Print (15 copies) — Available in 163 countries
Giveaway closed
fiction
horror
poetry
short stories
dark
funny
medium-paced
170 pages | first published 2022
Prizes: Print (15 copies) — Available in 163 countries
fiction
horror
poetry
short stories
dark
funny
medium-paced
170 pages | first published 2022
We're giving away 10 paperbacks and 5 hardbacks. In honor of StoryGraph's first giveaway, winners will also receive bonus short stories and poems yet to be published. 
Book description
What if every night you went to sleep, there were thousands of spiders at the foot of your bed? Or if you moved into a sentient house that had dementia? Maybe there's a special hospital that can remove your religion as an outpatient surgery, a Chr...

Prizes
Format: Print
Number of copies: 15
Delivery: Books will be shipped via USPS. Winners outside of US may have longer shipping times.
Algeria, Angola, Anguilla, Antigua and Barbuda, Argentina, Armenia, Australia, Austria, Azerbaijan, Bahamas, Bahrain, Barbados, Belgium, Belize, Benin, Bermuda, Bolivia, Bosnia and Herzegovina, Botswana, Brazil, British Virgin Islands, Bulgaria, Burkina Faso, Cambodia, Cameroon, Canada, Cape Verde, Cayman Islands, Chad, Chile, China Mainland, Colombia, Costa Rica, Cote D'Ivoire, Croatia, Cyprus, Czech Republic, Democratic Republic of the Congo, Denmark, Dominica, Dominican Republic, Ecuador, Egypt, El Salvador, Estonia, Eswatini, Fiji, Finland, France, Gabon, Gambia, Georgia, Germany, Ghana, Greece, Grenada, Guatemala, Guinea-Bissau, Guyana, Honduras, Hong Kong, Hungary, Iceland, India, Indonesia, Iraq, Ireland, Israel, Italy, Jamaica, Japan, Jordan, Kazakhstan, Kenya, Kosovo, Kuwait, Kyrgyzstan, Laos, Latvia, Lebanon, Liberia, Lithuania, Luxembourg, Macau, Madagascar, Malawi, Malaysia, Maldives, Mali, Malta, Mauritania, Mauritius, Mexico, Micronesia, Moldova, Montenegro, Montserrat, Morocco, Mozambique, Myanmar, Namibia, Nauru, Nepal, Netherlands, New Zealand, Nicaragua, Niger, Nigeria, North Macedonia, Norway, Oman, Pakistan, Palau, Panama, Paraguay, Peru, Philippines, Poland, Portugal, Qatar, Republic of Korea, Republic of the Congo, Romania, Rwanda, Saudi Arabia, Senegal, Serbia, Seychelles, Sierra Leone, Singapore, Slovakia, Slovenia, South Africa, Spain, Sri Lanka, St. Kitts and Nevis, St. Lucia, St. Vincent and the Grenadines, Suriname, Sweden, Switzerland, São Tomé and Príncipe, Taiwan, Tajikistan, Tanzania, Thailand, Tonga, Trinidad and Tobago, Tunisia, Turkey, Turks and Caicos Islands, Uganda, Ukraine, United Arab Emirates, United Kingdom, United States, Uruguay, Uzbekistan, Vanuatu, Venezuela, Vietnam, Zambia, Zimbabwe