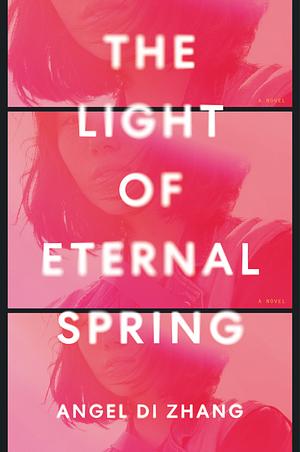 Giveaway
19 Mar 2023 - 18 Apr 2023
Prizes: Print (10 copies) — Available in 177 countries
fiction
literary
magical realism
emotional
hopeful
reflective
medium-paced
240 pages | first published 2023
Prizes: Print (10 copies) — Available in 177 countries
fiction
literary
magical realism
emotional
hopeful
reflective
medium-paced
240 pages | first published 2023
The author Angel Di Zhang and the publisher Penguin Random House Canada are pleased to offer 10 signed first-edition paperbacks of the highly anticipated THE LIGHT OF ETERNAL SPRING. Publishing April 25, 2023, in Canada; Giveaway open WORLDWIDE. Each book will be accompanied by a card or letter handwritten by the author.
Book description
Angel Di Zhang's intensely cinematic debut novel travels from the streets of New York City to northeast China, on the trail of a young photographer who needs to reconcile with her dead mother before she is able see the world again.Amy Hilton, born...

Prizes
Format: Print
Number of copies: 10
Delivery: Shipping via post office.
Afghanistan, Albania, Algeria, Angola, Anguilla, Antigua and Barbuda, Argentina, Armenia, Australia, Austria, Azerbaijan, Bahamas, Bahrain, Bangladesh, Barbados, Belarus, Belgium, Belize, Benin, Bermuda, Bhutan, Bolivia, Bosnia and Herzegovina, Botswana, Brazil, British Virgin Islands, Brunei, Bulgaria, Burkina Faso, Cambodia, Cameroon, Canada, Cape Verde, Cayman Islands, Chad, Chile, China Mainland, Colombia, Costa Rica, Cote D'Ivoire, Croatia, Cyprus, Czech Republic, Democratic Republic of the Congo, Denmark, Dominica, Dominican Republic, Ecuador, Egypt, El Salvador, Estonia, Eswatini, Fiji, Finland, France, Gabon, Gambia, Georgia, Germany, Ghana, Greece, Grenada, Guatemala, Guinea-Bissau, Guyana, Honduras, Hong Kong, Hungary, Iceland, India, Indonesia, Iran, Iraq, Ireland, Israel, Italy, Jamaica, Japan, Jordan, Kazakhstan, Kenya, Kosovo, Kuwait, Kyrgyzstan, Laos, Latvia, Lebanon, Liberia, Libya, Lithuania, Luxembourg, Macau, Madagascar, Malawi, Malaysia, Maldives, Mali, Malta, Mauritania, Mauritius, Mexico, Micronesia, Moldova, Mongolia, Montenegro, Montserrat, Morocco, Mozambique, Myanmar, Namibia, Nauru, Nepal, Netherlands, New Zealand, Nicaragua, Niger, Nigeria, North Macedonia, Norway, Oman, Pakistan, Palau, Panama, Papua New Guinea, Paraguay, Peru, Philippines, Poland, Portugal, Qatar, Republic of Korea, Republic of the Congo, Romania, Russia, Rwanda, Saudi Arabia, Senegal, Serbia, Seychelles, Sierra Leone, Singapore, Slovakia, Slovenia, Solomon Islands, South Africa, Spain, Sri Lanka, St. Kitts and Nevis, St. Lucia, St. Vincent and the Grenadines, Suriname, Sweden, Switzerland, São Tomé and Príncipe, Taiwan, Tajikistan, Tanzania, Thailand, Tonga, Trinidad and Tobago, Tunisia, Turkey, Turkmenistan, Turks and Caicos Islands, Uganda, Ukraine, United Arab Emirates, United Kingdom, United States, Uruguay, Uzbekistan, Vanuatu, Venezuela, Vietnam, Yemen, Zambia, Zimbabwe