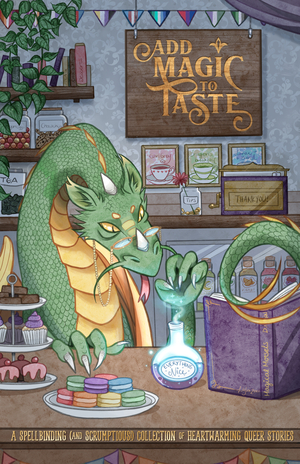 Giveaway
Add Magic to Taste by Willa Blythe, Florence Vale, Beth Lumen, Lex T. Lindsay, Jessica Black, I.A. Ashcroft, T.S. Knight, Tris Lawrence, Theresa Alef, A.L. Heard, Shea Sullivan, Maggie Page, Kristi Mae, Jo Mathieson, Em Rowntree, Alex Ransom, Nina Waters, Puck Malamud, Scarlett Gale, Lacey Hays, A. Reilly
19 Sep 2022 - 18 Oct 2022
Prizes: Digital (10 copies) — Available in 176 countries
Giveaway closed
fiction
contemporary
fantasy
lgbtqia+
short stories
emotional
hopeful
lighthearted
fast-paced
306 pages | first published 2021
Prizes: Digital (10 copies) — Available in 176 countries
fiction
contemporary
fantasy
lgbtqia+
short stories
emotional
hopeful
lighthearted
fast-paced
306 pages | first published 2021
Welcome to the debut anthology from Duck Prints Press! We're a small independent press dedicated to working with creators who've primarily worked on fancreations (fanart, fanfiction, etc.) and transitioning them to publishing original work with us. We're especially interested in working with LGBTQIA+ creators to share works featuring LGBTQIA+ characters. Our first collection, we selected the 20 strongest applicants from over 100 interested creators, and the results are a wonderfully diverse collection of feel-good stories about people coming together at coffee shops and similar venues to find happiness. We're thrilled to share it with y'all as part of the first round of Storygraph Giveaways!
Book description
For Add Magic to Taste, 20 authors have come together to produce all-new, original short stories uniting four of our absolute favorite themes: queer relationships, fluff, magic, and coffee shops! Our diverse writers have created an even more diver...

Prizes
Format: Digital
Number of copies: 10
Delivery: E-mail with .mobi and .epub formats attached and a link to download the file in .pdf format.
Afghanistan, Albania, Algeria, Angola, Anguilla, Antigua and Barbuda, Argentina, Armenia, Australia, Austria, Azerbaijan, Bahamas, Bahrain, Barbados, Belarus, Belgium, Belize, Benin, Bermuda, Bhutan, Bolivia, Bosnia and Herzegovina, Botswana, Brazil, British Virgin Islands, Brunei, Bulgaria, Burkina Faso, Cambodia, Cameroon, Canada, Cape Verde, Cayman Islands, Chad, Chile, China Mainland, Colombia, Costa Rica, Cote D'Ivoire, Croatia, Cyprus, Czech Republic, Democratic Republic of the Congo, Denmark, Dominica, Dominican Republic, Ecuador, Egypt, El Salvador, Estonia, Eswatini, Fiji, Finland, France, Gabon, Gambia, Georgia, Germany, Ghana, Greece, Grenada, Guatemala, Guinea-Bissau, Guyana, Honduras, Hong Kong, Hungary, Iceland, India, Indonesia, Iran, Iraq, Ireland, Israel, Italy, Jamaica, Japan, Jordan, Kazakhstan, Kenya, Kosovo, Kuwait, Kyrgyzstan, Laos, Latvia, Lebanon, Liberia, Libya, Lithuania, Luxembourg, Macau, Madagascar, Malawi, Malaysia, Maldives, Mali, Malta, Mauritania, Mauritius, Mexico, Micronesia, Moldova, Mongolia, Montenegro, Montserrat, Morocco, Mozambique, Myanmar, Namibia, Nauru, Nepal, Netherlands, New Zealand, Nicaragua, Niger, Nigeria, North Macedonia, Norway, Oman, Pakistan, Palau, Panama, Papua New Guinea, Paraguay, Peru, Philippines, Poland, Portugal, Qatar, Republic of Korea, Republic of the Congo, Romania, Russia, Rwanda, Saudi Arabia, Senegal, Serbia, Seychelles, Sierra Leone, Singapore, Slovakia, Slovenia, Solomon Islands, South Africa, Spain, Sri Lanka, St. Kitts and Nevis, St. Lucia, St. Vincent and the Grenadines, Suriname, Sweden, Switzerland, São Tomé and Príncipe, Taiwan, Tajikistan, Tanzania, Thailand, Tonga, Trinidad and Tobago, Tunisia, Turkey, Turkmenistan, Turks and Caicos Islands, Uganda, Ukraine, United Arab Emirates, United Kingdom, United States, Uruguay, Uzbekistan, Vanuatu, Venezuela, Vietnam, Yemen, Zambia, Zimbabwe