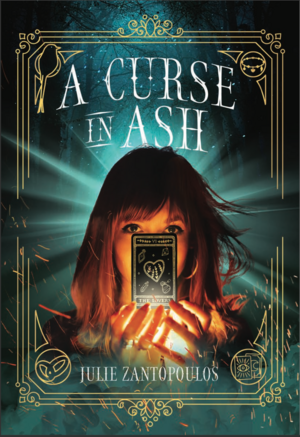 Giveaway
19 Oct 2022 - 18 Nov 2022
Prizes: Print (5 copies), Digital (40 copies) — Available in 176 countries
Giveaway closed
fiction
fantasy
lgbtqia+
romance
adventurous
emotional
mysterious
fast-paced
392 pages | first published 2021
Prizes: Print (5 copies), Digital (40 copies) — Available in 176 countries
fiction
fantasy
lgbtqia+
romance
adventurous
emotional
mysterious
fast-paced
392 pages | first published 2021
One bookseller was quoted saying, "If you liked Sarah J Maas's Crescent City, this is better." I will note that I promptly blushed and shook my head no! But, who argues with a bookseller? Not me. If you love fated mates, Fae, witches, magic, and danger, you'll love A Curse in Ash. It doesn't hurt that there are two broken and beautiful men that our main character doesn't have to choose between. Enter this giveaway for your chance at print or digital copies.
Book description
Everyone knows you don't mess with Fae on a New Moon.But the Fae that Aisling Quinn deals with don't need a thin Veil to cross and jeopardize her carefully created life. As a powerful witch, she's battled for agency in realms determined to control...

Prizes
Format: Print
Number of copies: 5
Delivery: Signed, personalized & shipped by me!
Eligible countries: United States
---
Format: Digital
Number of copies: 40
Delivery: Download through BookFunnel
Afghanistan, Albania, Algeria, Angola, Anguilla, Antigua and Barbuda, Argentina, Armenia, Australia, Austria, Azerbaijan, Bahamas, Bahrain, Barbados, Belarus, Belgium, Belize, Benin, Bermuda, Bhutan, Bolivia, Bosnia and Herzegovina, Botswana, Brazil, British Virgin Islands, Brunei, Bulgaria, Burkina Faso, Cambodia, Cameroon, Canada, Cape Verde, Cayman Islands, Chad, Chile, China Mainland, Colombia, Costa Rica, Cote D'Ivoire, Croatia, Cyprus, Czech Republic, Democratic Republic of the Congo, Denmark, Dominica, Dominican Republic, Ecuador, Egypt, El Salvador, Estonia, Eswatini, Fiji, Finland, France, Gabon, Gambia, Georgia, Germany, Ghana, Greece, Grenada, Guatemala, Guinea-Bissau, Guyana, Honduras, Hong Kong, Hungary, Iceland, India, Indonesia, Iran, Iraq, Ireland, Israel, Italy, Jamaica, Japan, Jordan, Kazakhstan, Kenya, Kosovo, Kuwait, Kyrgyzstan, Laos, Latvia, Lebanon, Liberia, Libya, Lithuania, Luxembourg, Macau, Madagascar, Malawi, Malaysia, Maldives, Mali, Malta, Mauritania, Mauritius, Mexico, Micronesia, Moldova, Mongolia, Montenegro, Montserrat, Morocco, Mozambique, Myanmar, Namibia, Nauru, Nepal, Netherlands, New Zealand, Nicaragua, Niger, Nigeria, North Macedonia, Norway, Oman, Pakistan, Palau, Panama, Papua New Guinea, Paraguay, Peru, Philippines, Poland, Portugal, Qatar, Republic of Korea, Republic of the Congo, Romania, Russia, Rwanda, Saudi Arabia, Senegal, Serbia, Seychelles, Sierra Leone, Singapore, Slovakia, Slovenia, Solomon Islands, South Africa, Spain, Sri Lanka, St. Kitts and Nevis, St. Lucia, St. Vincent and the Grenadines, Suriname, Sweden, Switzerland, São Tomé and Príncipe, Taiwan, Tajikistan, Tanzania, Thailand, Tonga, Trinidad and Tobago, Tunisia, Turkey, Turkmenistan, Turks and Caicos Islands, Uganda, Ukraine, United Arab Emirates, United Kingdom, United States, Uruguay, Uzbekistan, Vanuatu, Venezuela, Vietnam, Yemen, Zambia, Zimbabwe
---