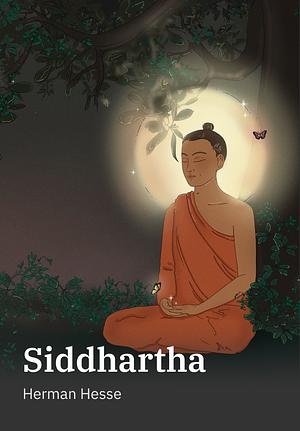 Giveaway
19 Mar 2023 - 18 Apr 2023
Prizes: Audio (250 copies) — Available in 177 countries
fiction
classics
philosophy
inspiring
reflective
medium-paced
5 hours | first published 1922
Prizes: Audio (250 copies) — Available in 177 countries
fiction
classics
philosophy
inspiring
reflective
medium-paced
5 hours | first published 1922
Hesse's 1922 classic Siddhartha, with an informative and thought-provoking guide by Aditi Magotra, and illustrations by Poppy Lam, exclusively available on the Audrey app.
Includes insights into the writing and the author's life, thought-provoking questions, TV and podcast recommendations, a book-inspired playlist, and - like all Audrey books - chapter recaps and a character map. It's kind of like a book club for one 😉
Book description
Siddhartha audiobook with guide by Aditi Magotra and illustrations by Poppy Lam, exclusive to Audrey.Siddhartha takes us on an adventure through mountains, valleys, rivers and cities, through indulgence and scarcity, towards the ultimate luxury of...

Prizes
Format: Audio
Number of copies: 250
Delivery: Book added to your book shelf on the Audrey app
Afghanistan, Albania, Algeria, Angola, Anguilla, Antigua and Barbuda, Argentina, Armenia, Australia, Austria, Azerbaijan, Bahamas, Bahrain, Bangladesh, Barbados, Belarus, Belgium, Belize, Benin, Bermuda, Bhutan, Bolivia, Bosnia and Herzegovina, Botswana, Brazil, British Virgin Islands, Brunei, Bulgaria, Burkina Faso, Cambodia, Cameroon, Canada, Cape Verde, Cayman Islands, Chad, Chile, China Mainland, Colombia, Costa Rica, Cote D'Ivoire, Croatia, Cyprus, Czech Republic, Democratic Republic of the Congo, Denmark, Dominica, Dominican Republic, Ecuador, Egypt, El Salvador, Estonia, Eswatini, Fiji, Finland, France, Gabon, Gambia, Georgia, Germany, Ghana, Greece, Grenada, Guatemala, Guinea-Bissau, Guyana, Honduras, Hong Kong, Hungary, Iceland, India, Indonesia, Iran, Iraq, Ireland, Israel, Italy, Jamaica, Japan, Jordan, Kazakhstan, Kenya, Kosovo, Kuwait, Kyrgyzstan, Laos, Latvia, Lebanon, Liberia, Libya, Lithuania, Luxembourg, Macau, Madagascar, Malawi, Malaysia, Maldives, Mali, Malta, Mauritania, Mauritius, Mexico, Micronesia, Moldova, Mongolia, Montenegro, Montserrat, Morocco, Mozambique, Myanmar, Namibia, Nauru, Nepal, Netherlands, New Zealand, Nicaragua, Niger, Nigeria, North Macedonia, Norway, Oman, Pakistan, Palau, Panama, Papua New Guinea, Paraguay, Peru, Philippines, Poland, Portugal, Qatar, Republic of Korea, Republic of the Congo, Romania, Russia, Rwanda, Saudi Arabia, Senegal, Serbia, Seychelles, Sierra Leone, Singapore, Slovakia, Slovenia, Solomon Islands, South Africa, Spain, Sri Lanka, St. Kitts and Nevis, St. Lucia, St. Vincent and the Grenadines, Suriname, Sweden, Switzerland, São Tomé and Príncipe, Taiwan, Tajikistan, Tanzania, Thailand, Tonga, Trinidad and Tobago, Tunisia, Turkey, Turkmenistan, Turks and Caicos Islands, Uganda, Ukraine, United Arab Emirates, United Kingdom, United States, Uruguay, Uzbekistan, Vanuatu, Venezuela, Vietnam, Yemen, Zambia, Zimbabwe