Read as part of the 2015 Hugo packet. DNF.
3.0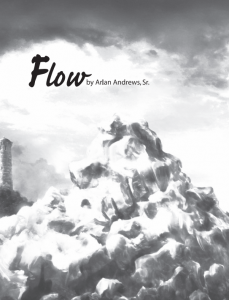 Arlan Andrews' "Flow" was
nominated for the Hugo Award for Best Novella
(a story with a word count between 17,500 words and 40,000 words).  "Flow" was originally published in the
November issue of Analog
and has since been posted on Analog's site (
here
). This review is part of my effort to read and evaluate the 2015 Hugo nominees prior to the final vote later this year. I've previously reviewed "
Totaled" by Kary English
, and I'll post link other reviews as I write them.
"Flow" is an intriguing story about a young man who travels out of his native land in the frozen north of his world to the warmer lands to the south, the adventures he experiences as he travels, and the discoveries he makes as he encounters the people there. Rist is the son and twin of mighty heroes of his people, and he longs to measure up to his father and brother. When the opportunity arises to join merchants as they guide an iceberg to the south for sale, Rist jumps at the chance, hoping to learn more about what is in the warmer lands to the south and bring back some advantage for his people. Along the way he learns as much about himself and his own people as he does about the strange people who buy the icebergs from near his home.
Written in a heavily expository manner, "Flow" is told from a close third person point of view, with an emphasis on 'tell' over 'show.' In some respects, the choice would seem like a natural one for Rist, an explorer eager to record every discovery, every observation. He finds himself in foreign and occasionally hostile lands, where technology is beyond his own, and he wants to bring back what he can for his people. That said, I would have preferred he tell the story in first person since it would have seemed more natural.
With all the exposition, the story seems to drag for a while as it casts about for a conflict to provide the tension of the story. It is a voyage of discovery, but it still takes more than half the story before Rist is faced with a real danger or threat. When it appears, Rist proves to be a courageous soul, though his development as a brave explorer seems to be a foregone conclusion. He faces an obstacle and he overcomes it. Even when deterred from his goals, he effortlessly makes the decisions that are necessary, without much attention for why or any apparent internal conflict.
That said, Rist represents the kind of daring, plucky, and make-do kind of explorer that might be found in any story of space exploration in the pages of Analog. That he is a pre-historic sounding midget who awkwardly describes the women with breasts (the women of his people don't seem to have any) is distracting until recognizing the overall story's theme: discovery is a risky, dangerous, and often solo endeavor.
How does that fit into the Hugo race? I've yet to read the other nominees, so I'm withholding judgment until I can compare "Flow" to its competition. I think Flow has much to recommend it, even with the heavy exposition and occasionally stilted narrative style.
"Flow" is not the first Andrews has written in this world; a previous story, "Thaw," appeared in Analog in 2013. You can read "Flow"
here
.